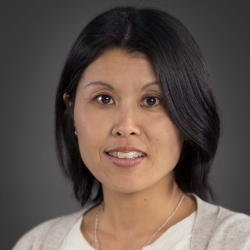 Emiko Takagi
Associate Professor
GRN Advisor
Phone: (415) 338-3557
Email: etakagi@sfsu.edu
Location: HSS 242 A
Email Dr. Takagi for Zoom links for online advising or to schedule an appointment
Biography
Emiko Takagi is an Associate Professor in the Gerontology Program at San Francisco State University.  She received her bachelor's degree (B.S. in Human Sciences) from Osaka University, Japan, her master's degree (M.S. in Gerontology) from the University of Arizona, and her doctoral degree (Ph.D. in Sociology) from the University of Southern California.  She has been teaching a number of gerontology courses to both undergraduate and graduate students including Introduction to Gerontology, Aging and Society, Age and Policy Analysis, and Aging and Diversity.  Through her research, Dr. Takagi has been inquiring how social relationships, networks, and support systems influence the well-being of older adults. Her current research particularly focuses on the issues related to older adults' loneliness and social isolation in different national contexts. 
Teaching Interests
Her teaching interests include social, cultural, and policy issues for diverse groups of older adults, by covering topics such as: informal and formal support for older adults, culture and aging, and global aging.  She hopes that her teaching will inspire the next generations of gerontologists to develop many more creative and innovative ways to serve the needs of older adults and their families.
Research Interests
Her research examines the relationships between older adults' social network and well-being by examining issues such as intergenerational family relationships, social support, loneliness and social isolation in later life.  Her research involves older adults in various national contexts, including the U.S., Japan, and Singapore.  
Publications
Takagi, E. & Marroquin-Serrano, M.S. (2023). Age-friendly university principles: Discussion with older learners. Educational Gerontology. https://doi.org/10.1080/03601277.2023.2217642
Takagi, E., Saito, Y., & Cruz, G.T. (2022). Older adults' loneliness and social relationships in the Philippines: Comparison between rural and urban contexts. Asia Pacific Journal of Public Health. https://doi.org/10.1177%2F10105395221106861
Takagi, E. & Saito, Y., Chan, A. (2020).  Gender differences in the association between social relationships and loneliness among older adults in Singapore.  Journal of Population Research.  https://doi.org/10.1007/s12546-020-09242-0
Takagi, E. & Saito, Y. (2019).  Loneliness, intergenerational coresidence, and mortality of older adults in Japan. Gerontology and Geriatrics, International, 20(2), 156-160.  https://doi.org/10.1111/ggi.13837
Website
CV