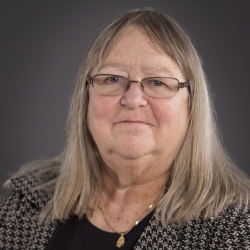 PA Advisor
Phone: (415) 817-4457
Email: gstowers@sfsu.edu
Location: HSS 136
Biography
Dr. Stowers is Professor of Public Administration in the School of Public Affairs and Civic Engagement (PACE) at San Francisco State University. Her current research interests are online service delivery in cities and data visualization in the public sector. She has published widely on technology in government and urban service delivery. She teaches classes in information technology, urban administration, strategic planning, budgeting, statistical analysis, and data visualization, and the capstone course.  She is active in the University and the community.
Recent Selected Publications
Managing the Sustainable City, 2nd Edition. (With Al Hyde). 2024. Under Contract, Routledge
In Vogel, Ronald K. (Ed.) 2023. Cities and Technology. Handbook of Urban Politics.  
2021. Back to Basics: City Services and 311 Service Requests. State and Local Government Review. Available online at https://doi.org/10.1177/0160323X211064253.
Managing the Sustainable City. (With Al Hyde and Ernita Joaquin) 2017.  Routledge.
Thorsby, Jeff; Tumbuan, Ellie; Stowers, Genie N.L.; Wolslegel, Kristen. 2016. Understanding the Content and Features of Open Data Portals in American Cities. Government Information Quarterly. 
Budd, Deborah and Stowers, Genie N.L. 2015. Group Differences in California Community College Transfers. Community College Journal of Research and Practice.
2009. The little city that could: The case of San Carlos, California. In Reddick, Christopher G. 2009. Strategies for Local E-Government Adoption and Implementation: Comparative Studies Hershey, Pennsylvania: IGI Global.
CV