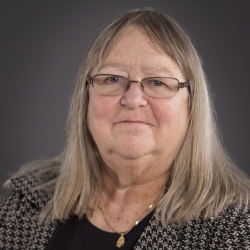 PA Advisor
Phone: (415) 817-4457
Email: gstowers@sfsu.edu
Location: HSS 136
Dr. Stowers is off for Spring 2023
Biography
Dr. Stowers utilizes emerging technologies to engage students through her online class PA 757: E-government and other IT classes.  The online e-government class is very positively evaluated by students, who report enjoying its multi-media aspects, project-based learning, online team projects, and research assignments.  Dr. Stowers integrates research with instruction in that students learn about the variety of e-government activities by collecting data from American cities for a joint San Francisco State University-Rutgers University survey on e-governance.  Dr. Stowers combines efforts to engage students in technology and IT Management with scholarly work in the area. 
Managing the Sustainable City. 2017, Under Contract, Routledge.
Thorsby, Jeff; Tumbuan, Ellie; Stowers, Genie N.L.; Wolslegel, Kristen. 2016. Understanding the Content and Features of Open Data Portals in American Cities. Government Information Quarterly. 
Budd, Deborah and Stowers, Genie N.L. 2015. Group Differences in California Community College Transfers. Community College Journal of Research and Practice.
Stowers, Genie N.L. (2009).  The little city that could: The case of San Carlos, California. In Reddick, Christopher G. 2009. Strategies for Local E-Government Adoption and Implementation: Comparative Studies Hershey, Pennsylvania: IGI Global.
CV