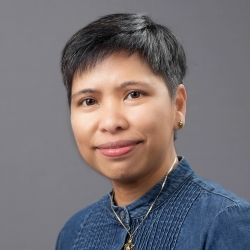 M.Ernita Joaquin
Associate Professor
PA Advisor
Phone: (415) 405-3496
Email: ejoaquin@sfsu.edu
Location: HSS 242 C
Email Dr. Joaquin for Zoom links for advising hours.  Office hours are also by appointment.
Dr. Maria Ernita Joaquin has published extensively in the fields of administration, politics, and education. Her most recent book, American Administrative Capacity: Decline, Decay, and Resilience (Springer, 2021) examines the deep-seated weaknesses in federal administration that are manifested in today's public health and democratic crises, and points to some of the avenues for resilient capacity building. View the rest of Dr. Joaquin's publications here.  
Her teaching areas include organization design and change management, intergovernmental dynamics, public management reform, public budgeting, crisis management, and American government.
Students' signature projects in her classes have included project management plans, budget proposals, organizational development memos, personal learning contracts, and service-learning opportunities. In this pandemic era, she has worked with students on research into the role of colleges and universities in public health (e.g., Vaccine Clinics), and the politics of controlling the bureaucracies central to crisis management and national resilience.