Students selected for the program are placed in prestigious semester-long internships within San Francisco's local government. Undergraduate fellows work 16 hours per week under the guidance of a seasoned local government official. Fellows work on various projects throughout their semester in the program. The projects are designed in alignment with fellows' studies and areas of interest in addition to the agencies' needs. Fellows are awarded a $3,000 stipend.
The application for Fall 2023 will open on August 21st, 2023. Prospective students can find and apply for the fellowship on Academicworks to be a part of the Spring 2024 cohort in Fall 2023. 
If you have any questions on this please email Dr. Jennifer Shea at jshea@sfsu.edu and Dr. Tony Sparks at tsparks@sfsu.edu.
Program Manager Office Hours are: TBD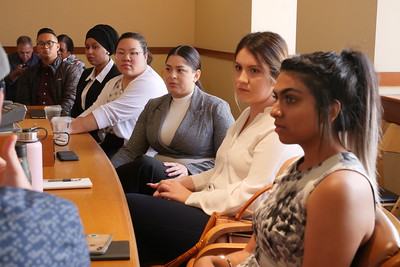 Eligibility Requirements for the Spring 2024 Fellowship Program for Undergraduates
To become a Willie L. Brown, Jr. Undergraduate Fellow for Spring 2024 you must:
Be enrolled at SF State full-time
Have completed 60 units at the time of application submission
Be a student in good standing (minimum 2.0 cumulative GPA)
Have an interest in a career in public service
Have faced hardships in pursuing a college degree (i.e. financial hardship, single parent, formally incarcerated, first generation student, homelessness, veteran status)
Be available to intern 16 hours/week for 15 weeks during the semester at a city agency*
Be available to attend the 3-unit seminar on Fridays morning between 9:30am--12:30 pm in Fall 2023*
*Note: Internships and seminars are held in accordance with SF State and public health mandates in light of COVID-19.
Get Support for Your Application
Attend one of our information sessions facilitated by Fellowship staff which provide a general overview of the program and application. Fellowship alumni are usually in attendance for our information sessions to provide their experiences and answers your questions from a student perspective.
Past Undergraduate Placement Sites 
Board of Supervisors
Department of Children, Youth, and Their Families
Department of Emergency Management
Department of Homelessness and Supportive Housing
Department of Public Health
Department of Technology
Human Rights Commission
Office of the City Administrator
Office of Economic & Workforce Development
Office of Transgender Initiatives
San Francisco Public Defender
San Francisco Recreation & Parks
SF Environment
SF Planning
And many more!
Comments from Past Undergraduate Fellows
"The Willie L. Brown Fellowship has given me the tools and confidence to pursue graduate school. It was a life changing experience!" — John "J," Spring 2020, Supervisor Shamman Walton's Office
"I really enjoyed the WLB fellowship, it's been truly an amazing experience and a wonderful opportunity that I never wouldn't have receive without the WLB fellowship. I have improved and gain professional skills, I got to build on my confidence, and have been able to truly be transparent about my past which allowed be to be my most authentic self." — Cassie, Spring 2020, SF Planning
"The Willie L. Brown, Jr. Fellowship aided in my professional growth and inspired me to invoke on a journey of public servitude. Through the professional mentoring, and support of my peers I overcame my fears of my limitations and acknowledged that our stories empower us. ...This fellowship allowed me to be part of a diverse group who will become the next resilient leaders to create social change in the world." — Saharai, Spring 2019, Public Defender's Office, Juvenile Unit