for full-time professionals
active practitioners & scholars
The SF State Master of Public Administration (MPA) Program offers students the opportunity to earn their MPA by taking a mix of in-person and hybrid courses in the heart of downtown San Francisco. The program is home to five full-time tenured faculty members. In addition, between three and eight part-time affiliated faculty also teach MPA classes. Part-time affiliated faculty include colleagues from other PACE programs, professors emeriti and practitioners.
Come and hear more by attending one of our convenient (Zoom) admissions information sessions for potential Fall 2023 MPA students, where you will be able to speak directly to a faculty member and get all of your questions answered.
Frequently Asked Questions
We are a nationally accredited and respected MPA Program, accredited by NASPAA (Network of Schools of Public Policy, Affairs, and Administration)
We have a high quality faculty, all of whom have been practitioners in the field and continue to be active scholars and active in the community.
Our face to face classes are conveniently located at the SF State Downtown Campus at 160 Spear Street, 5th Floor. Our location is near the waterfront, with quick access to the Embarcadero BART/Muni station and adjacent to the Transbay Terminal.
We have a very flexible curriculum so students can tailor their courses for their own career goals-- and move forward with classes at their own pace.  
Our classes are scheduled for the convenience of adult learners working full-time.
Even prior to the COVID-19 shutdown, our faculty had taught online and hybrid courses so we are able to provide a variety of alternative modes of instructions taught by experienced faculty.
We have very high retention rates among students to the end of their degree (86.2 %) meaning 86.2 percent of students enrolling in our MPA Program complete their degree! 
The average number of semesters students needed to complete the degree is only 6.3 (for students enrolling in 2014-2015), for a 39 -42 unit degree; this includes summers, so students can move through the degree program more quickly.
We have a highly diverse student body with 70% of the student body coming from underrepresented groups,  matching our highly diverse full-time faculty (80% female, 60% coming from under-represented groups), resulting in inclusive and equitable learning experiences.
Our students are from a wide variety of backgrounds, experiences, and fields, further adding to the richness of learning experiences.
We provide a highly affordable degree! 43.5% of students graduating in 2019-2020 reported taking on NO student debt at all to complete their degree! Another 8.7% took on only $5,000 of student debt.
Students graduating in 2019-2020 learned so much that 52.2% of them were able to get a NEW JOB DURING their MPA program and 47.8% of them were able to get a PROMOTION during the degree program.

Public Administration attempts to explain how decisions in government are made as well as administrating projects to carry out those decisions. A public administration degree prepares students for a career in government or nonprofit work. Studying public administration builds the skill set for anyone looking to give back to their community by solving difficult problems.
While elected officials are the most visible part of our government, it is the daily government workers, or "bureaucrats," who do the majority of governmental tasks and functions. They come up with implementing solutions to the most daring of society's challenges. They advise elected officials of the strengths and weaknesses of public programs. A public administrator manages public agencies, sets budgets and creates government policies. 
Graduates of our MPA program work for agencies such as Bureau of Labor Statistics,  Social Security Administration, U.S. Government Accountability Office, California State Senate and Assembly, CA State Transportation Agency, CA State Auditor, Emergency Management with Office of the Controller City and County of San Francisco, City Manager and Mayor of Daly City, Administrative and Fiscal Services Manager at the City of Berkeley and nonprofit organizations such as Oakland Family Resource Center, Legal Services for Children, CompassPoint, East Bay Community Foundation, As You Sow, Go Public Schools, Urban Solutions and On Your Feet Foundation amongst others.
Some examples of public administration job titles include auditor, administrator, director, manager, specialist and systems analyst.
Categories

Public Administration (MPA)

Public Policy (MPP)

Business (MBA) 

Career Pathways

Federal, state, and local government management 
Criminal justice 
Nonprofits 
Urban planning 
Research and budget analysis 
Government affairs 
Advocacy 
National security 
Consulting

Health policy 
Environmental policy 
Government affairs 
Policy advising 
Consulting 

Marketing 
Management 
Human resources 
Financial advising 
Entrepreneurship 

Skill Set

Project and program management 
Policy implementation 
Public financial management 
Human resources 
Organization behavior
Strategic and analytical thinking 

Data management 
Qualitative and statistical analysis 
Policy analysis and creation 
Financial cost/benefit analysis and modeling 

Human resources management 
Strategic and analytical thinking 
Financial analysis 
Consumer targeting 

Curriculum

Public organization management 
Program evaluation 
Public finance and budgeting 
Human resources
Statistics and data analysis 
Policy analysis methods

Public policy 
Statistics and data analysis 
Public finance 
Micro/macro economics 

Accounting 
Marketing 
Human resources 
Economics 
Business communications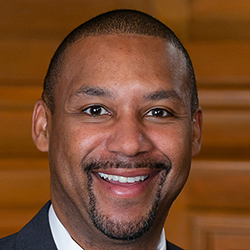 "The MPA program taught me how government works, how resources flow from all levels of government — federal, state to local. The program is second to none in preparing you for a life in government."
Shamann Walton (MPA, '10)
President, San Francisco Board of Supervisors
Shamann Walton credits San Francisco State with preparing him for that leap to government. There's not a day that goes by in his current role that he doesn't use what he learned at SF State, he said.
"The MPA program taught me how government works, how resources flow from all levels of government — federal, state to local," he added. "The program is second to none in preparing you for a life in government."
He was drawn to SF State for its historic commitment to social justice, equity and inclusion, something his instructors lived and breathed, he said. "We live in a diverse world. In public service, it's important to understand and build relationships with the communities and the cultures around you. All of my professors understood that and taught from that perspective," he said. "It's a testament to the leadership at SF State that professors know and understand that different cultures are important, that diversity is important and to bring all that to a leadership role is important."
Source:  Oppenheim, James. 2021.  SF State News.  
Our courses are taught using effective, high impact practices (HIPs) like collaborative assignments, community-based learning, and capstone experiences. All students in our program complete an eportfolio highlighting the knowledge and skills they have gained over the course of the degree. Three examples of the eportfolios from recent graduates emphasize the types of learning in which our MPA students engage, the variety of assignments and course content they complete, and the quality of SF State MPA students' work. 
Learn more about PACE programs and admissions by meeting our faculty and learning about the admissions processes.