Willie L. Brown, Jr. Fellowship Program marks 10th anniversary, launches graduate fellowship for MPA students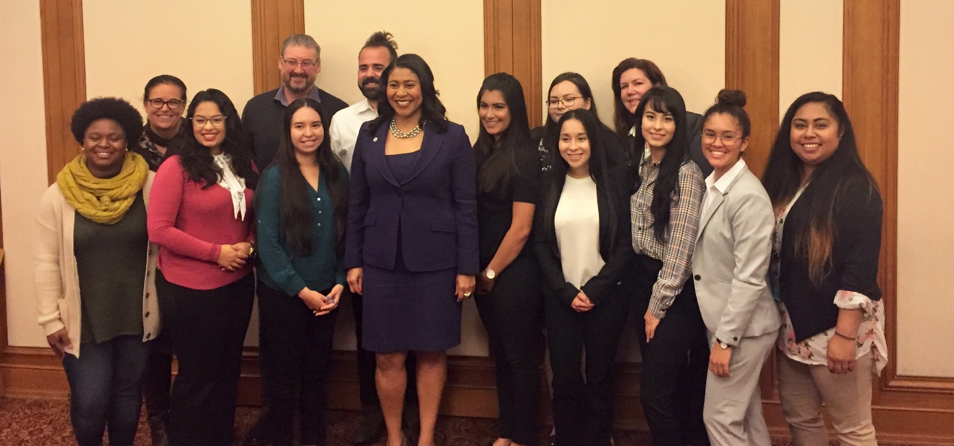 The Fall 2018 semester marks the 10th anniversary of the Willie L. Brown, Jr. Fellowship Program at SF State. Since the program's inception, more than 100 undergraduate fellows from across the University have participated, including 11 this semester (pictured above with San Francisco Mayor London Breed). 
The program recruits SF State juniors and seniors from diverse racial, cultural, and economic backgrounds and places them in semester-long internships in various departments in the City and County of San Francisco. This allows them to explore careers in public service while building their professional skills and networks. Alumni of the fellowship program hold influential positions in public service in San Francisco and beyond.
SF State alumnus Willie L. Brown, Jr., former mayor of San Francisco and former speaker of the California State Assembly, founded the program in 2008. Internships for local government have been a part of Brown's vision since his time as mayor. One former government intern who is now recognizable is San Francisco Mayor London Breed, who dropped by to share some advice to the current fellows during their professional development seminar at City Hall on September 7.
Currently co-directed by Jennifer Shea, associate professor of public administration, and Tony Sparks, associate professor of urban studies and planning, with support from the Willie L. Brown, Jr. Institute on Politics and Public Service, the fellowship program is now expanding to include a new two-year graduate fellowship for SF State Master of Public Administration students and applicants.
To find out more information on the Willie Brown Fellowship Program, including how to apply for the undergraduate and graduate fellowships, visit the Willie L. Brown, Jr. Fellowship web page.